Well it was like any other morning….except where there was supposed to be traffic, there was only open highway. Where there was supposed to be tall buildings, farmland passing by. Smog…replaced by sunlight breaking through fog. I actually got to keep my visor open to breath in clean air on the way to meet the first group of BamaRiders I would meet.
Funny what things go through your mind when you think you're going to feel one way about something and instead a situation changes everything about everything and from there…nothing is the same.

Also funny was the Bubba and Jeb in the truck hanging out the window yelling "WHOOOooooo OOOOOOooo LIKE THAT TAIL!!!" and hanging the cell phone out the window to take pics of me on the highway….funny….they don't get a lot of gal sport-bike riders in cullman I guess.
No problems finding my way on a strange highway in a strange state to meet up with Pruitt, Mark, Michelle, Suzanne, Scott and Clark. (Thank you Mark and Michelle for that one)Pruitt rolled up first with a twinkle in his giddy eye. He was just as excited as I was without the reservations of meeting new people I sometimes have. WHAT A bike that boy has!! While he is new to riding, my 12 yrs of experience and beat up bandit took a backseat in eye appeal for sure! Next to roll up was Mark and Scott Parker. Called them on the cell phone and like superheros they swooped in on Pruitt and I in a heartbeat. Just when I was looking for a pair of capes, in rides Michelle on her Harley beauty, complete with pretty spiked helmet to "de-cute" any and all girlyness that might lead you to thinking this chick can't ride. Then again, ask her about that cute pink fuzzy thing she keeps on the tail bag that one MAY not notice right away….
Next up was Captain America on the Red, White and Blue Trike! What a crack up that cool thing is and was!! My first inspiration to whip out the camera! Will provide photos via Photobucket link later today. By the way, I'm down for kicking in for a gas gauge as a b'day present for Clark if he has to get pushed to the gas station ONE MORE TIME !! (And what a pair of buddies Pruitt and Mark are for being willing to push it on through to the station!
Last but not least was our virgin group rider Suzanne. Our infant of the group in a leather halter..go baby GO! Insecure about showing off her new bikerbitchness,  t'was I that told her "if you have boobs, you can wear it" and wear it she did!

Off to 29 Dreams behind Scott who wound up making a KILLER ride leader allllllll day long –  sans the dam trip later that day….that's dam not damn…
Now I have ridden – AND I DO MEAN RIDDEN.   Anyone that has read or knows about my 12 years in Hollywood/LA knows…and the scars on the 5th bike I have owned will show…I HAVE RIDDEN. I have ridden mostly alone, and a LOT in the mountains..through cities, and through the gates of hell in traffic. I have ridden through the black hills of S. Dakota with Daddy and the uncles,  I have ridden in group rides with many a sport-biker. But what I had NEVER ridden ..was with a group of incredibly CARING people…people who will NOT abandon you.  Will NOT ditch you.  Will NOT try to impress you and lead you into something you may not be equipped or experienced enough to handle.  People who make the riding fun (with the exception of my family that I have already stated I rode with)   Complete strangers that become instant friends. Friends one can suspect you will have likely for a very long time if not for the rest of your life.
Riding to 29 Dreams was amazing.   It was eye opening to see what Alabama looks like…if only a small part of it. I have never seen so much green. I have never seen so many bikers wave. I have never seen so much space and so few people..and when you DO see people..they often wave!  I have never seen lush foliage and space between the houses and so many tractors, horses, (poor dead one on the side of the road..that was new too!)  I'm sure these things are not a big deal to most of you ..heck..maybe ALL of you..but to a citified gal like myself?? Someone who has had almost NO fun and all drama and fear on a a bike….it was pure magic my friends.   I never worried about dying. That has NEVER happened to me on any ride ever in 12 yrs. NEVER.  There is always something waiting to get you around every corner where I come from.  Out  riding with this group through the towns, and literally over the river and through the woods…while I was totally aware that the same dangers of cars, road hazards, animals,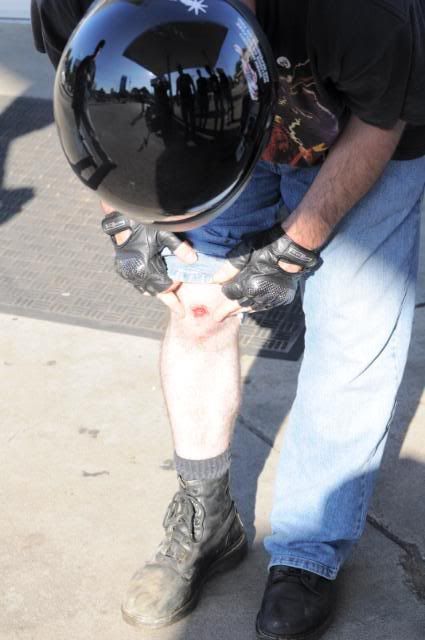 people and mechanical failure existed…and yet I was able to RELAX for the FIRST TIME and enjoy the ride.   I am usually hyper when I get off of the bike…ask anyone who hung with me..I was cool as a cucumber when we got there.   Normally when I meet lots of new people I keep them at arms length…yesterday…I couldn't get enough hugs.  What a blast we all had at 29 Dreams. How great everyone was to take care of Suzanne being new, Pruitt too, though you wouldn't know it, me being totally unable to find my way home if I had to, and to Shannon and Tanya who went down and became everyone's concern. I have seen bikers go down several times in front of me, but not all the riders stuck around..most didn't want their ride ruined and left.  That was NOT the case here at ALL.
I know I was a stranger in a strange place, but all day long and through the ride and even back home again, all I could think of was what the license plates around here all say…..Sweet Home Alabama.
-pinkspeeder
zp8497586rq